If you are interested in testing out a log cabin before making the investment, let me present the Bay View Lake House on Lake Michigan. Nestled in the gorgeous beauty near Traverse City, this cabin is a great rental destination for families. It includes a private beach, a gorgeous balcony, and much more!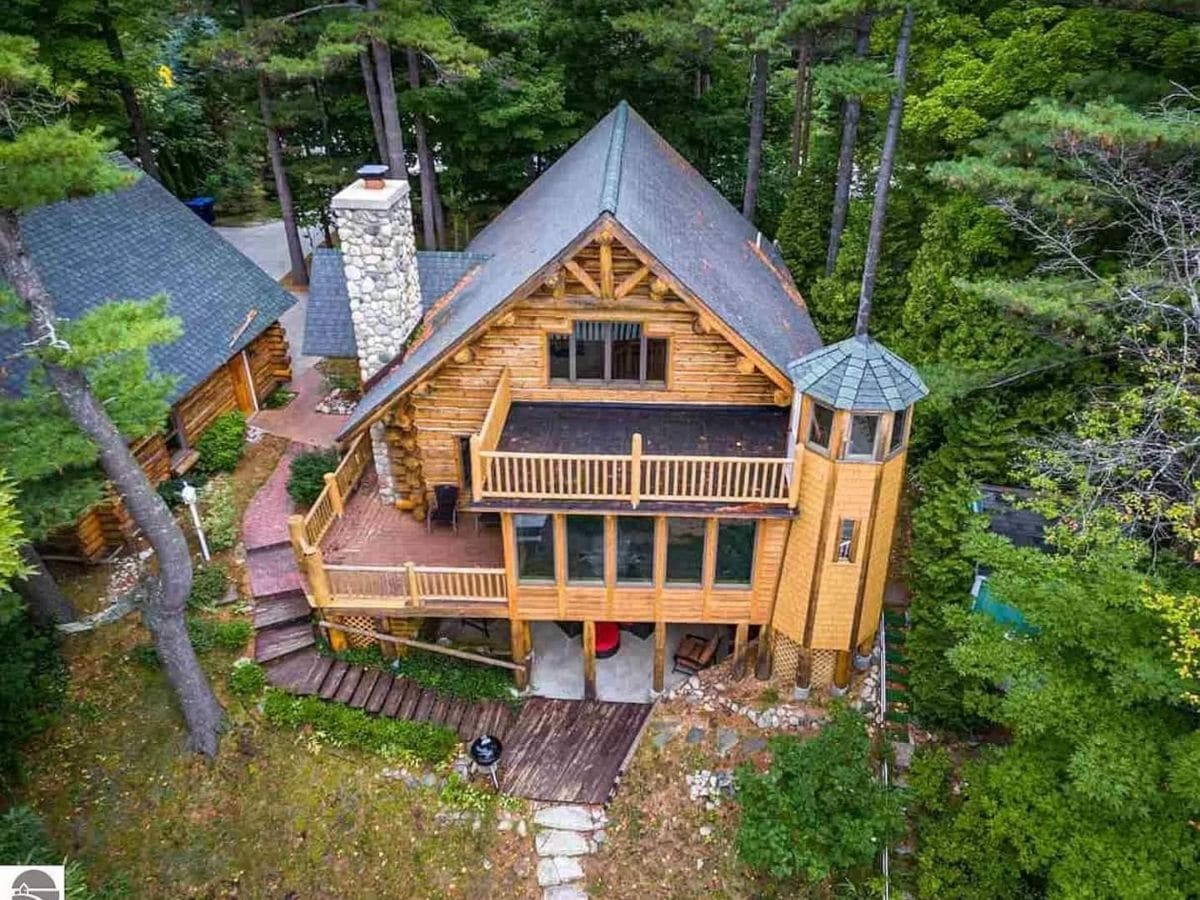 Rental Pricing
$350 to $600 per night depending upon season and day of the week. Weekly stays or monthly rentals may have discount options.
Home Features
Located minutes from Traverse City, Michigan on Lake Michigan.
Has private beach with gorgeous views.
Easily sleeps 6 guests with potential for more in the main floor master bedroom, and laarge loft with two queen beds and one single bed.
Has 1.5 bathrooms.
Large open room with access to balcony that overlooks the lake.
Private 4-seasons dining room with gorgeous views.
Large modern kitchen with stainless steel quality appliances, wine cabinet, and tons of storage.
Unique "lighthouse tour" with views of Lake Michigan and spiral staircase.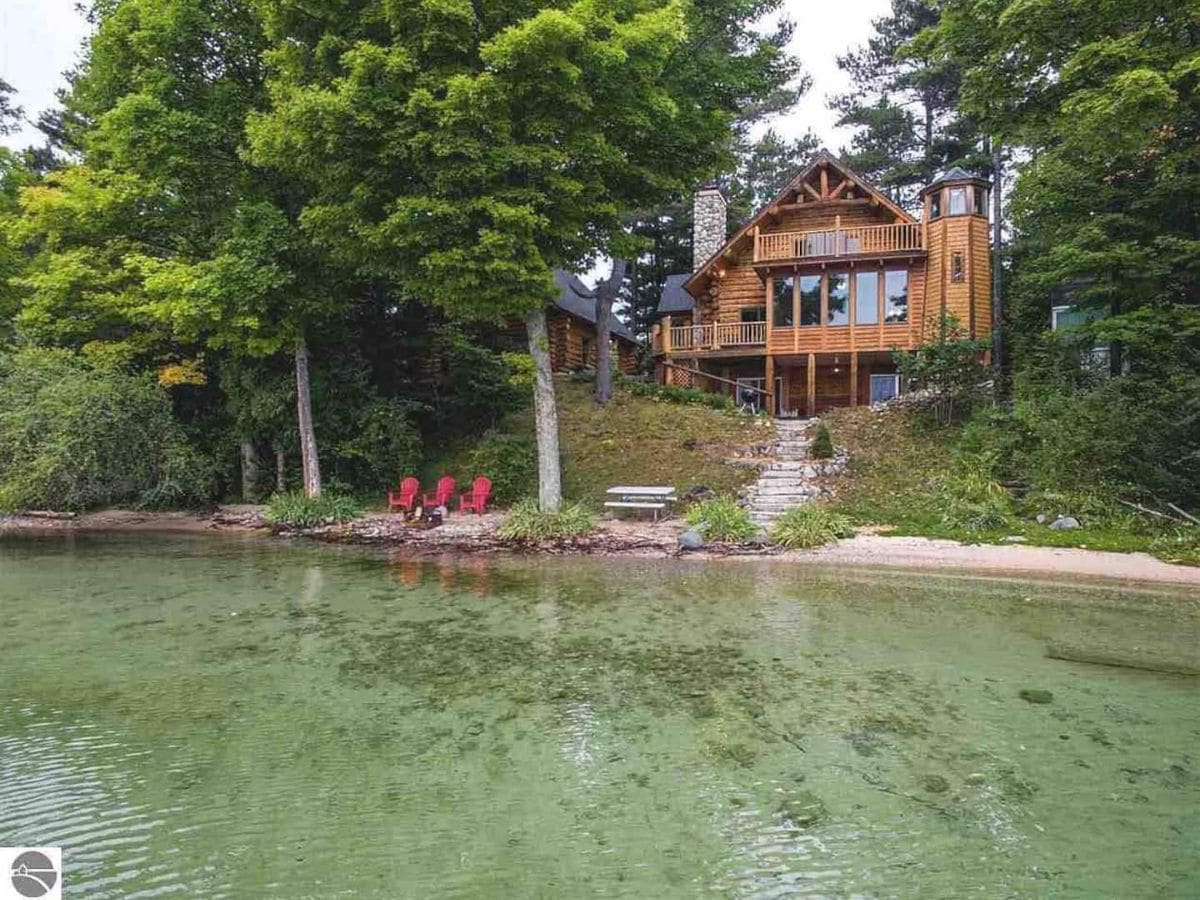 The home itself is a gorgeous layout with a focus on the views of Lake Michigan. The main floor has a sizable wrap-around deck with the top floor loft opening to a smaller balcony.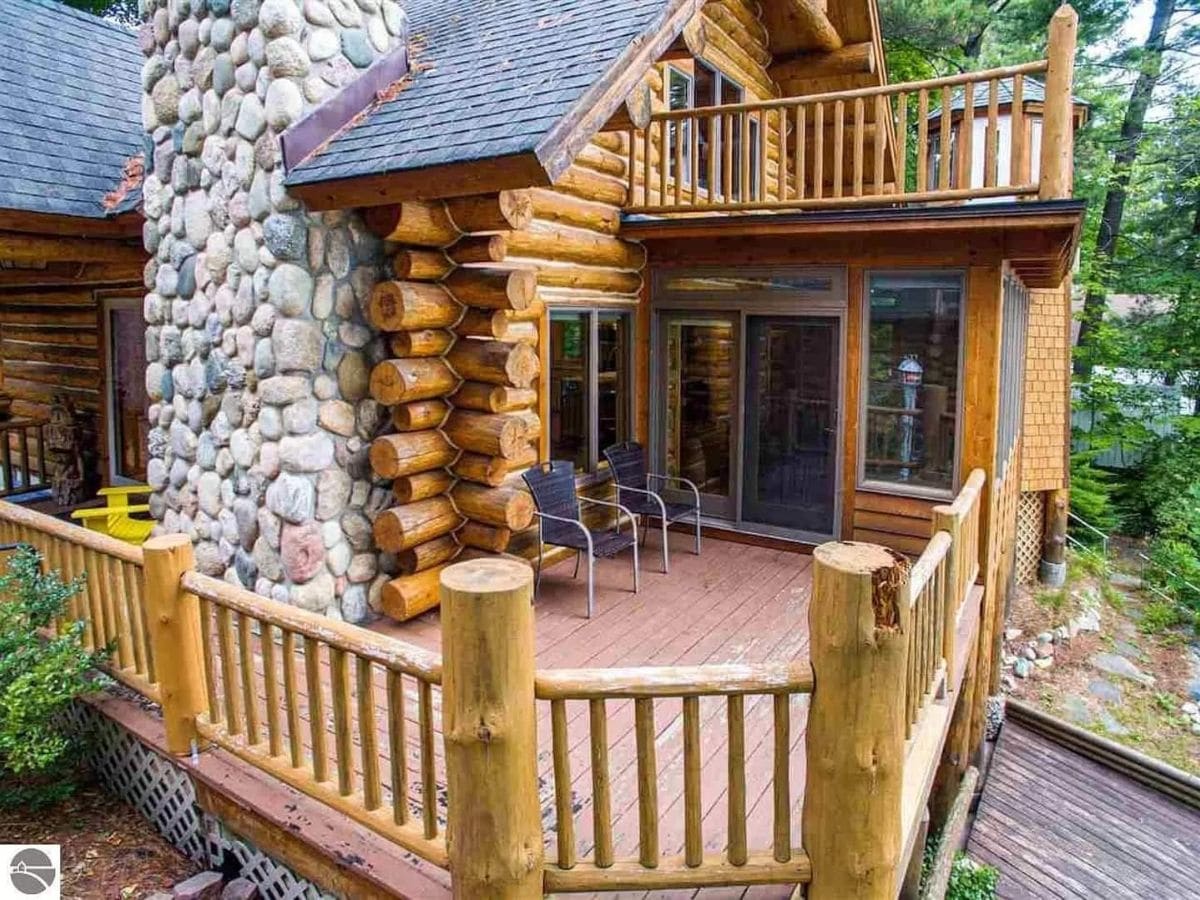 The property also includes a detached 2-car garage with the same gorgeous log cabin work that matches the home beautifully.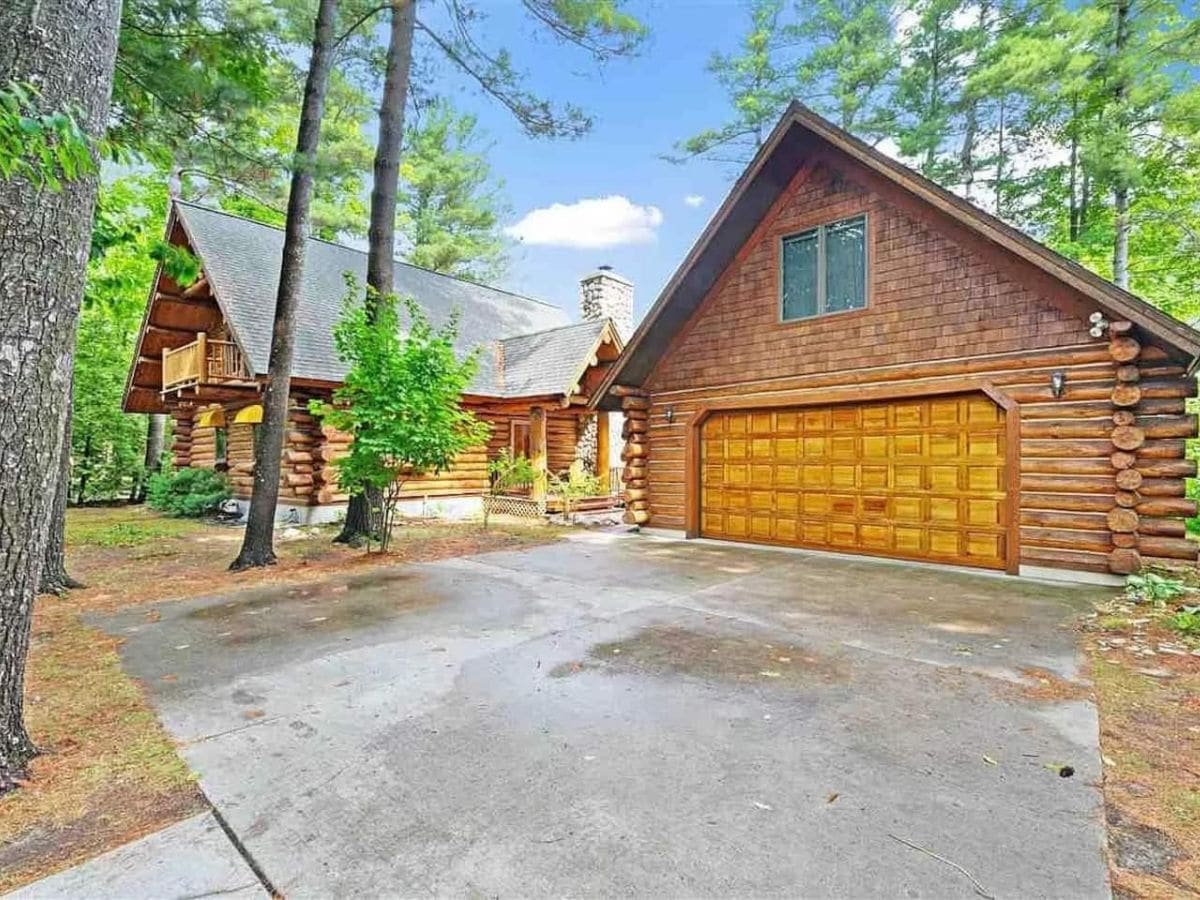 As much as I love the cabin in summer and fall, this winter picture gives me the storybook vibes that I love about a cabin in the woods. Could it get any more lovely than this? I think not.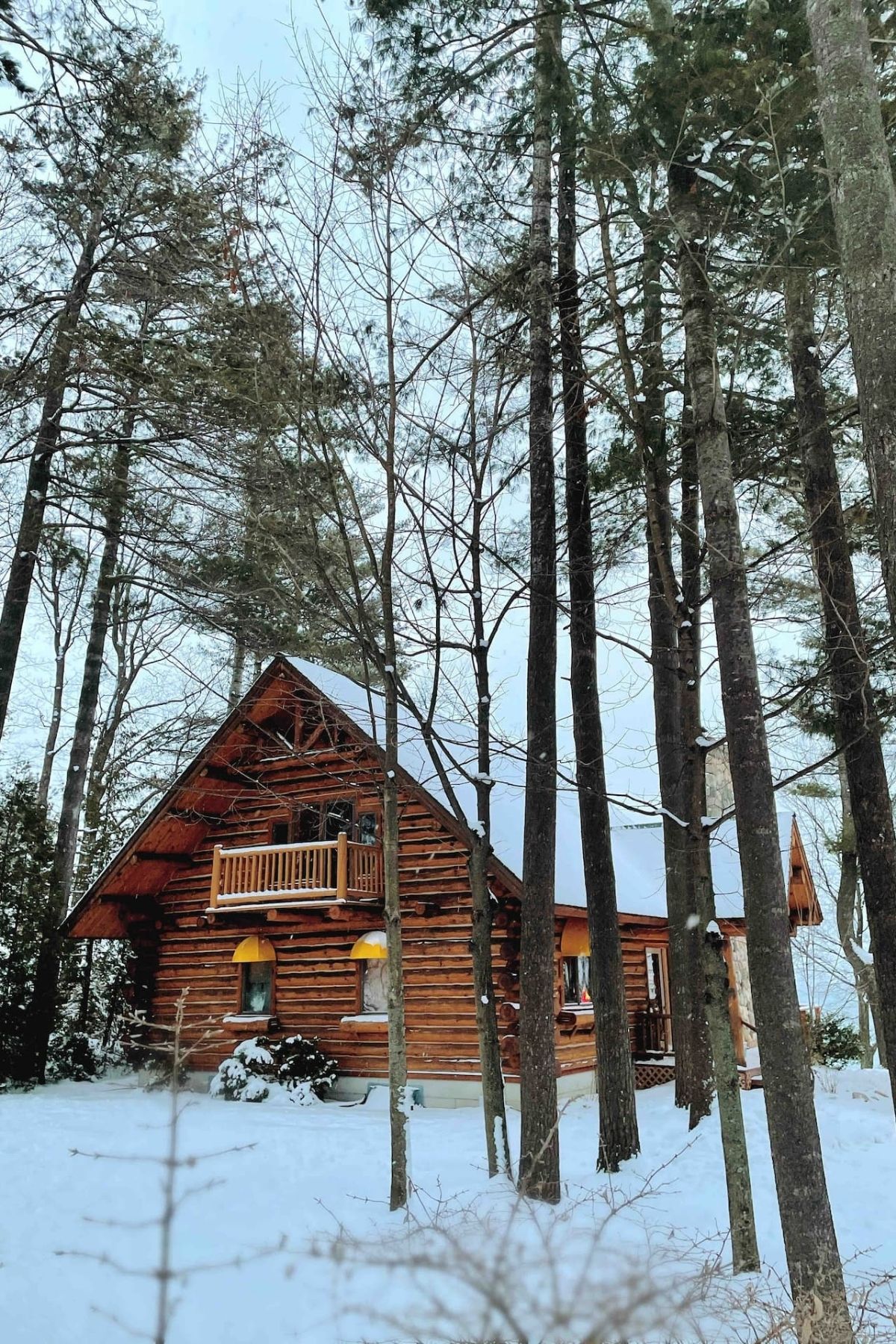 And here is another winter image that showcases that gorgeous stone chimney on the side of the home. It's just truly a stunning destination.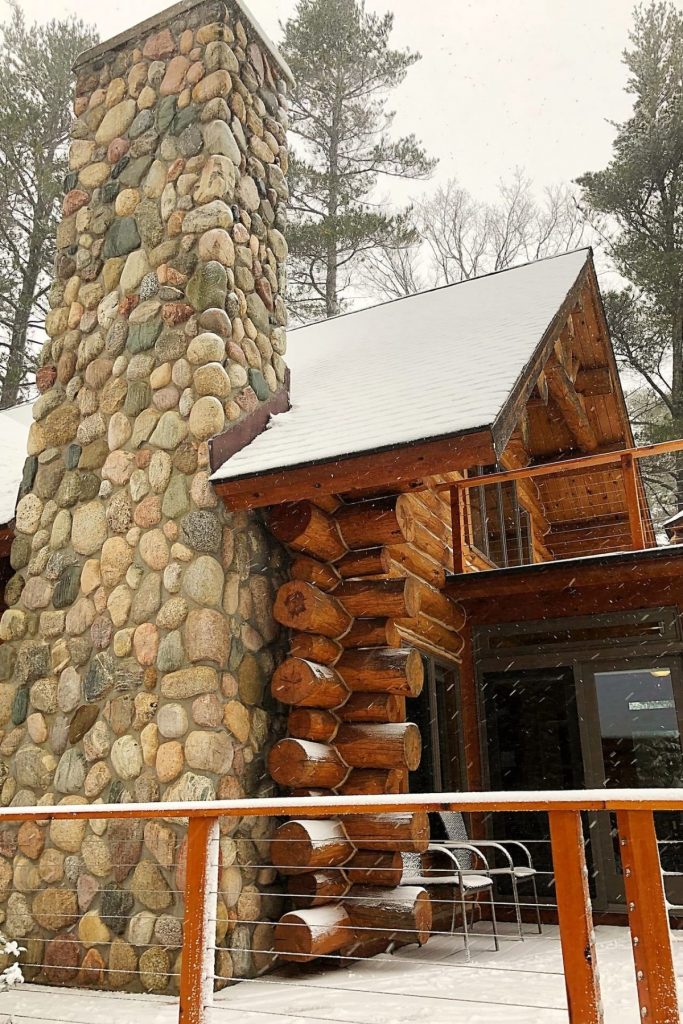 Just look at that view! It doesn't get any better than walking out on the deck with your morning coffee to see that!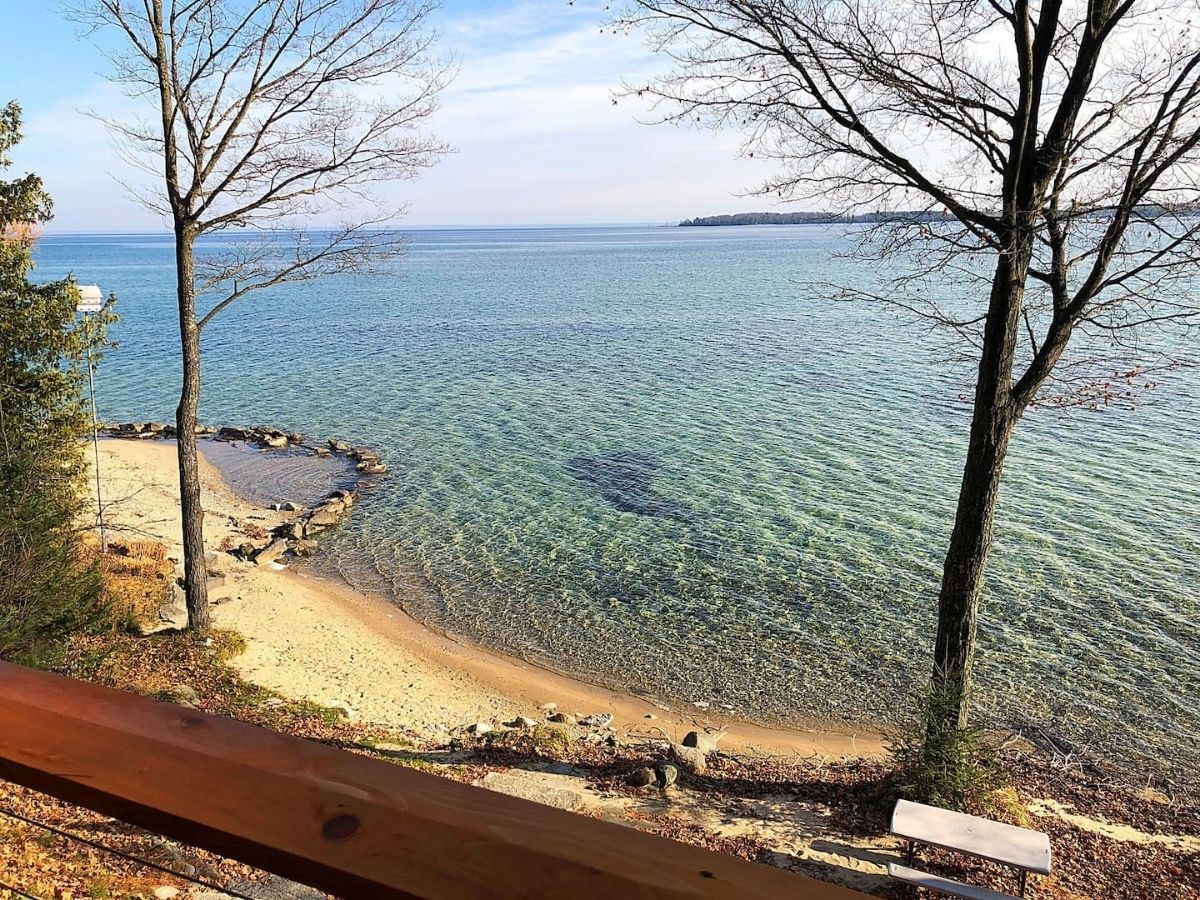 Of course, we have to go inside and look at what is offered in the home itself. THe outside may be spectacular, but the inside is just as important for your comfort.
The main floor includes the gorgeous great room with a stone fireplace, cozy seating area, and of course the kitchen, master bedroom, and a 4-seasons room that doubles as a dining room.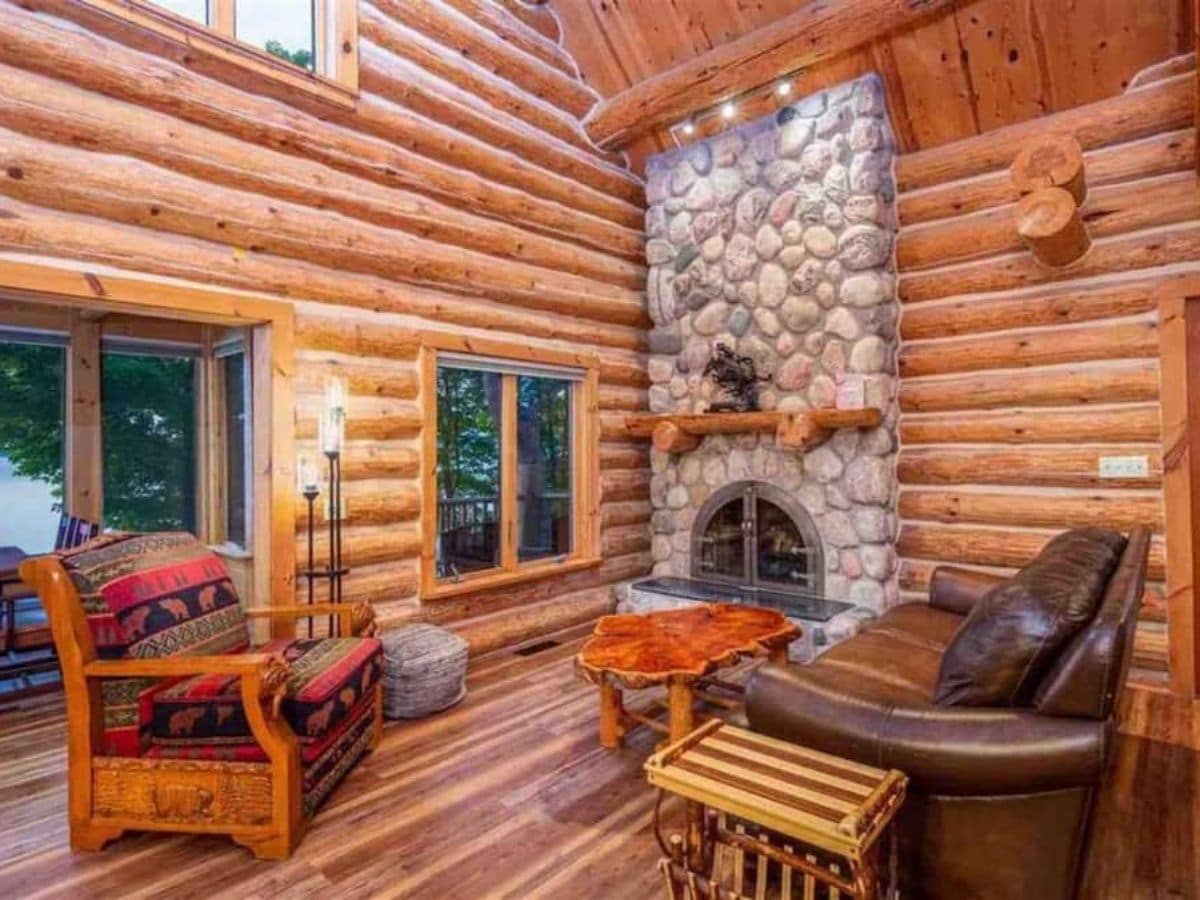 I love seeing a fireplace with custom stone work like this one. There is just something so welcoming about it.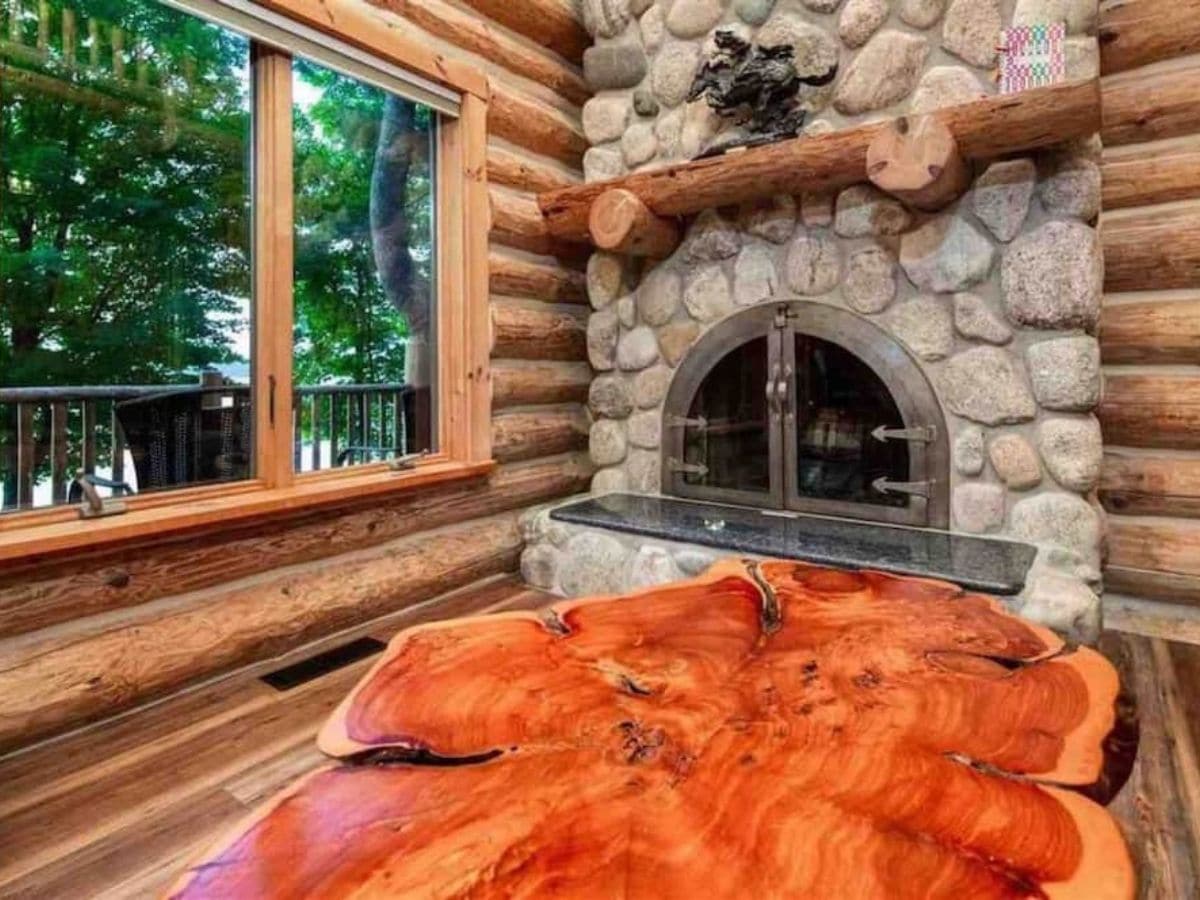 And this one is definitely a great addition for the home to bring in that nice warmth you need on cold snowy Michigan days. It's in the corner of the living room so doesn't take up too much space but is still comfortable and convenient.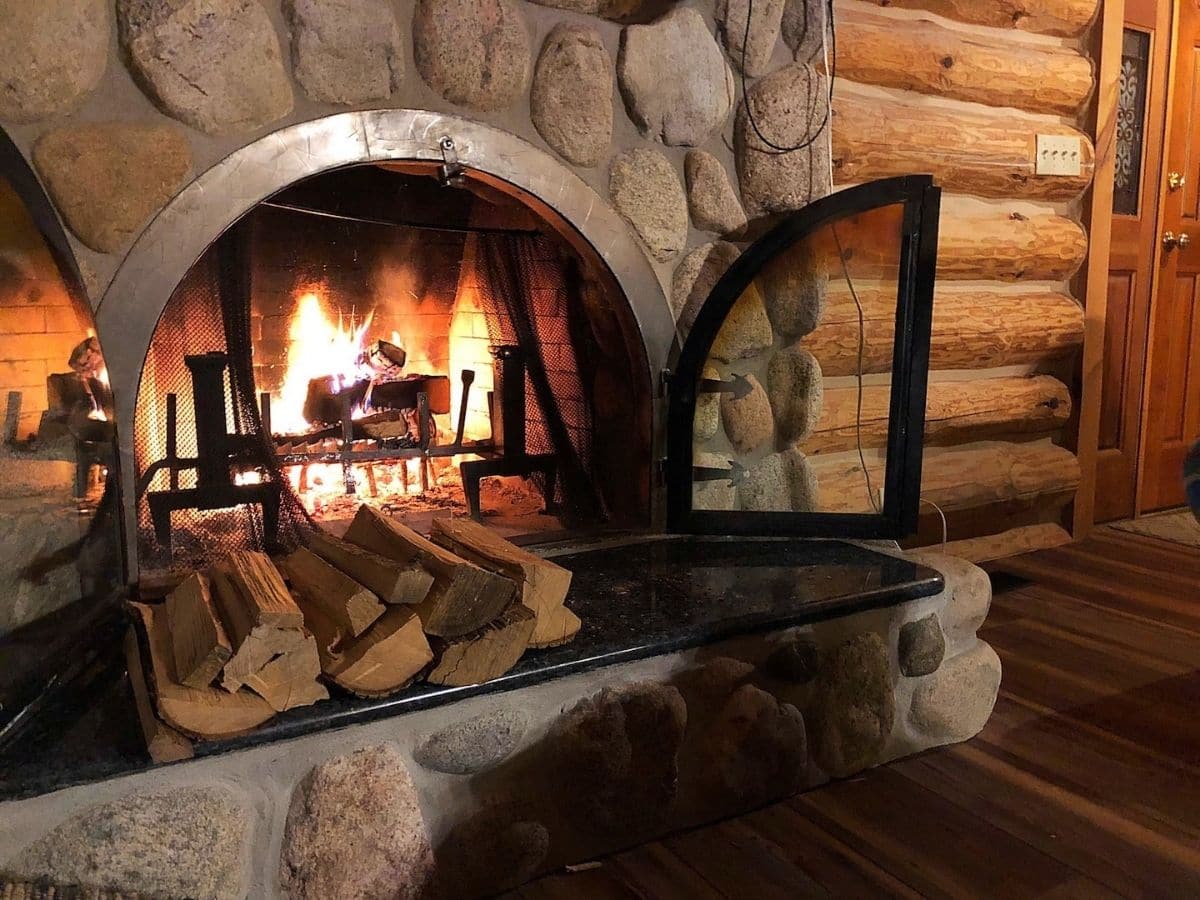 Behind the living area are the kitchen, storage spaces, master bedroom, and stairs to the loft. A beautiful open concept with those cathedral ceilings makes it feel so large and open!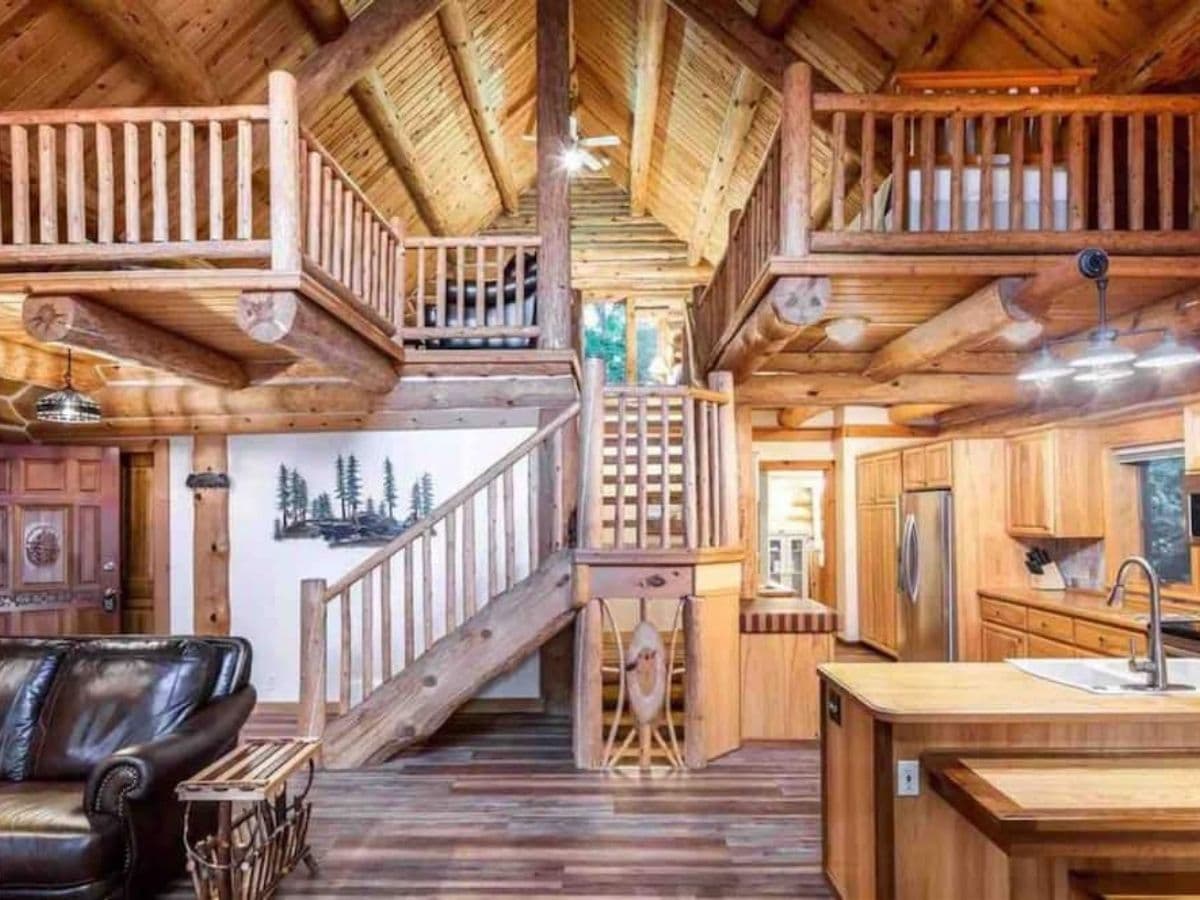 The kitchen is another absolutely gorgeous part of this home. Large and L-shaped, it has everything you need for a family meal or just a quick snack.
The bar and counter facing the living area has two levels making it a perfect breakfast nook on one side while still being a great place for prep on the back side. From here you can also see all of the large cabinets, tile work, and a hint of the bathroom at the back of the kitchen space.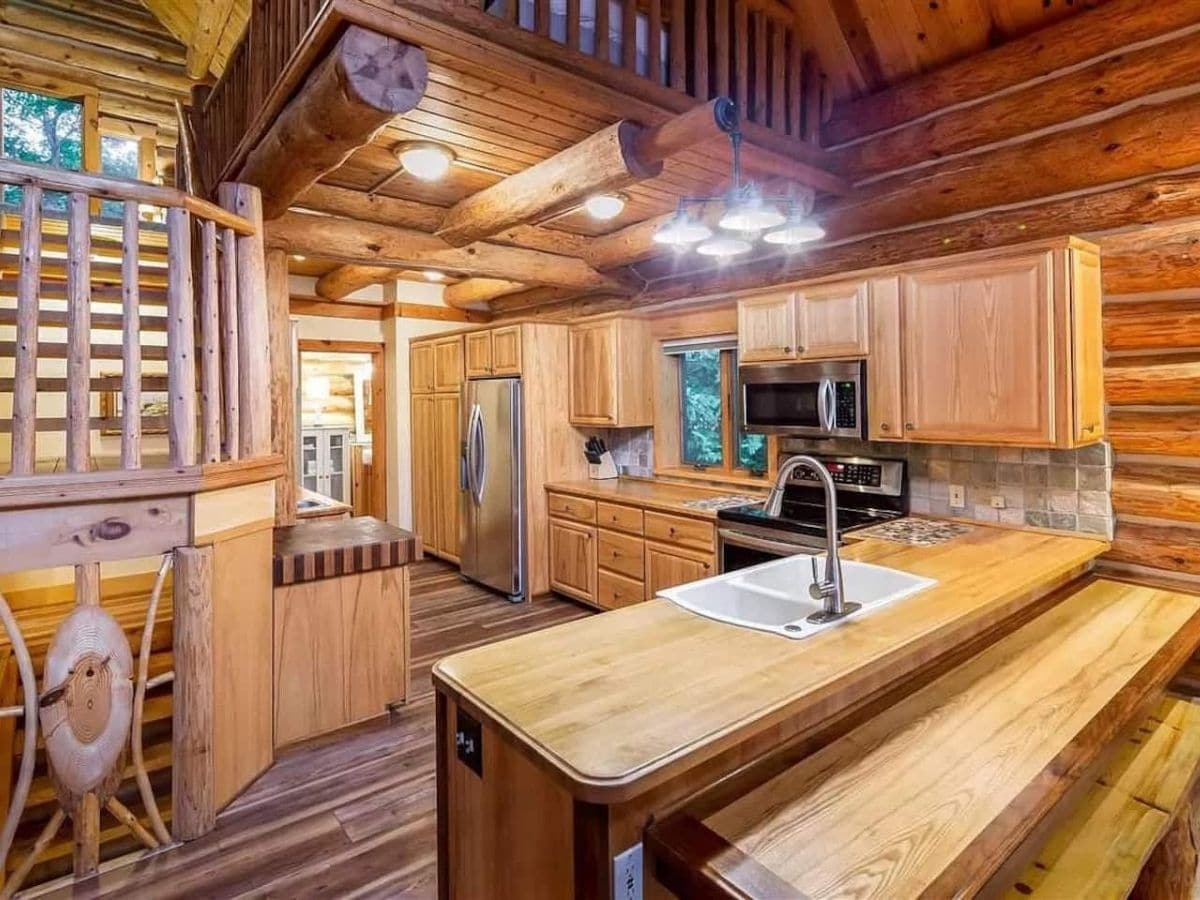 The front counter of the kitchen faces the dining room/4-seasons room. Here you can see it has a nice deep farmhouse style sink next to a dishwasher. You can wash on your own or let the machine do the work for you.
On the side wall of the home is the counter with tile backsplash and stainless steel electric range with a microwave vent hood.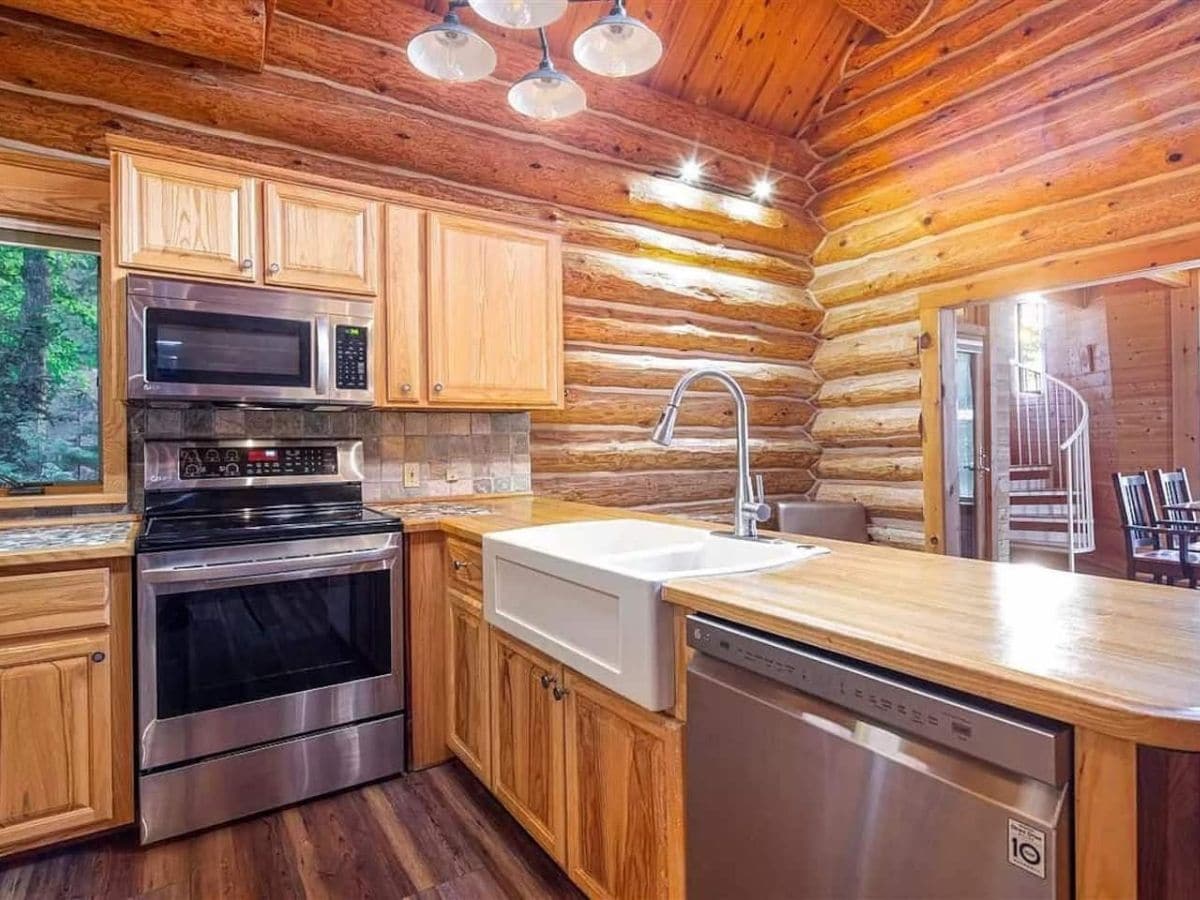 Looking back toward the front of the kitchen you can see the extra counter space on the right side includes a wet bar with wine storage just across from the large stainless steel refrigerator.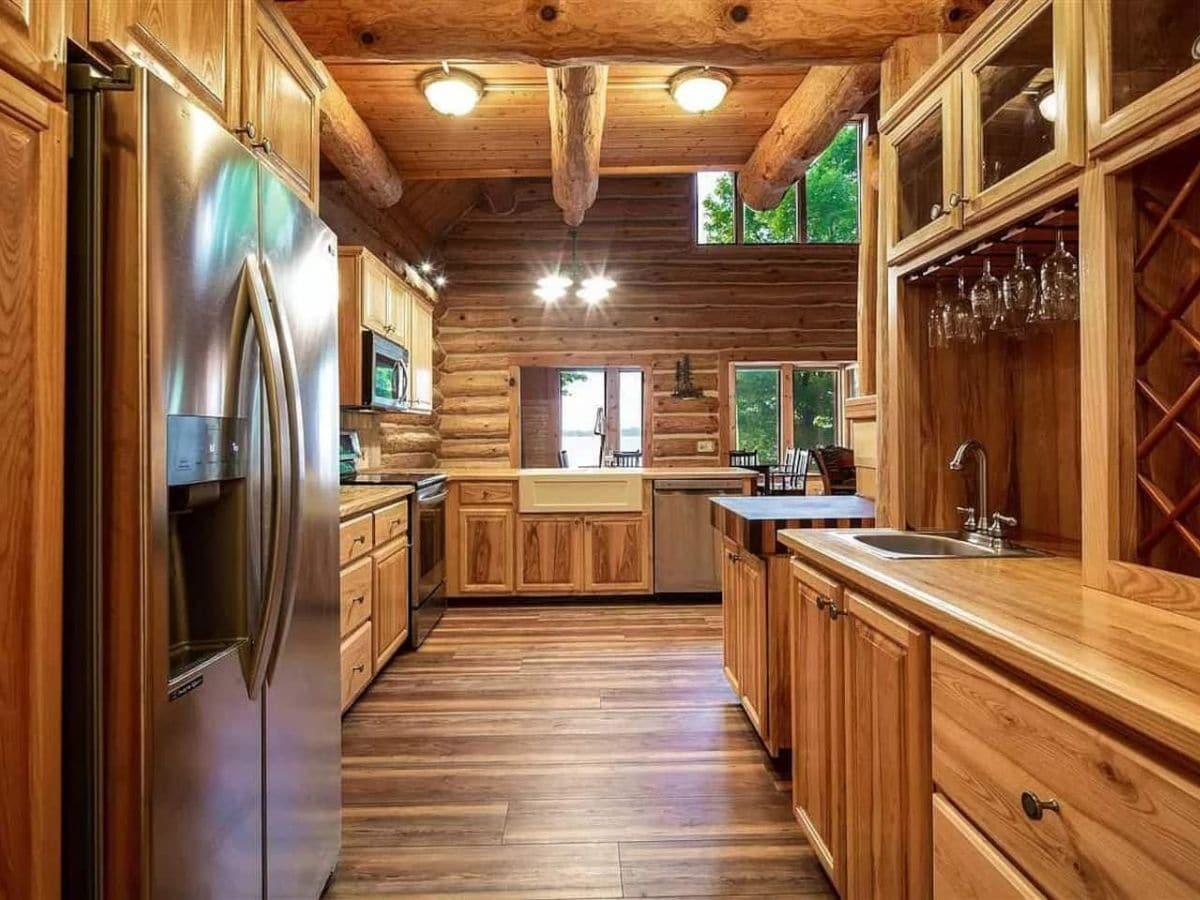 Of course, I have to showcase this space that is a formal dining room, but is open and accessible for just about anything you want.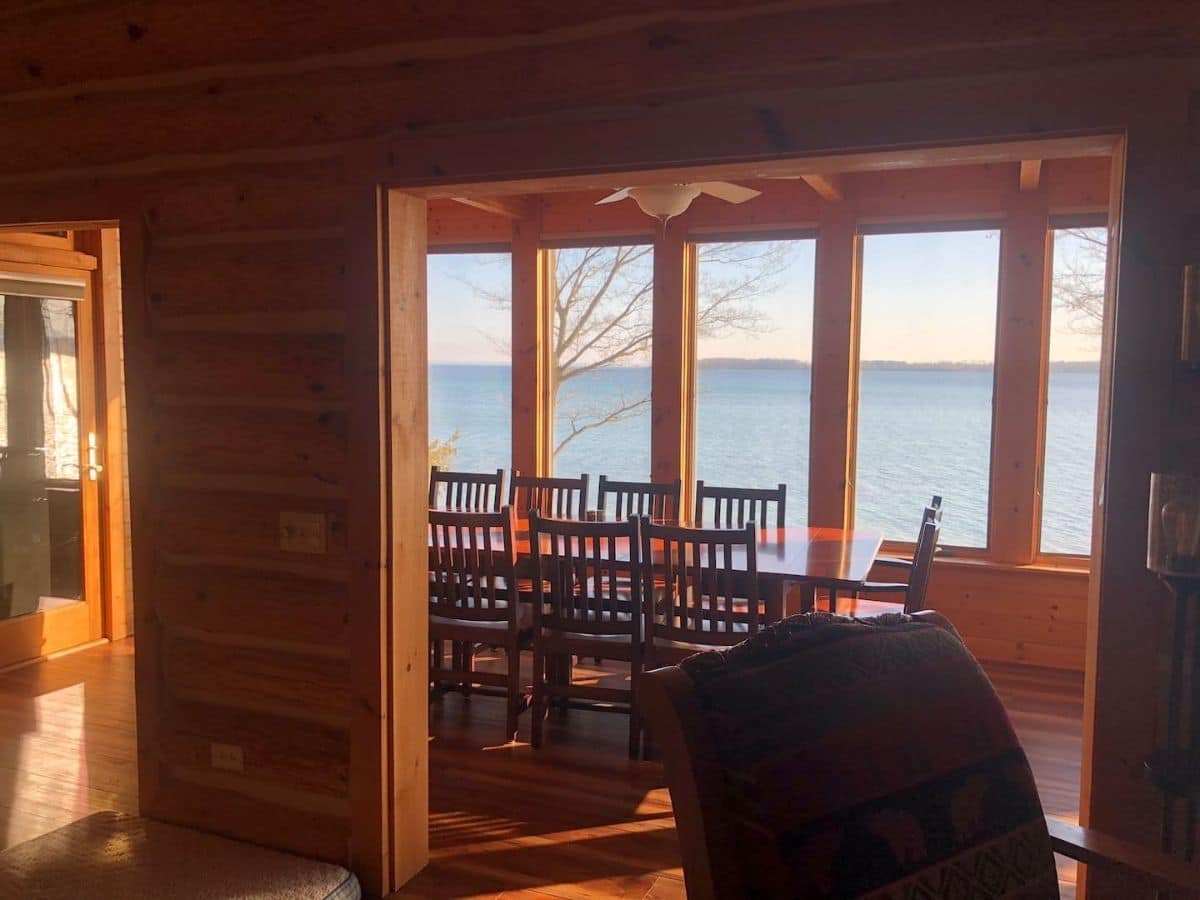 Often called a Michigan room or a 4-seasons room, this opens on both sides and has the staircase to the lighthouse tower. It can be a dining room, game room, or add a few chairs to make it a fun little reading room with a balcony on one side and trail to the lake on the other.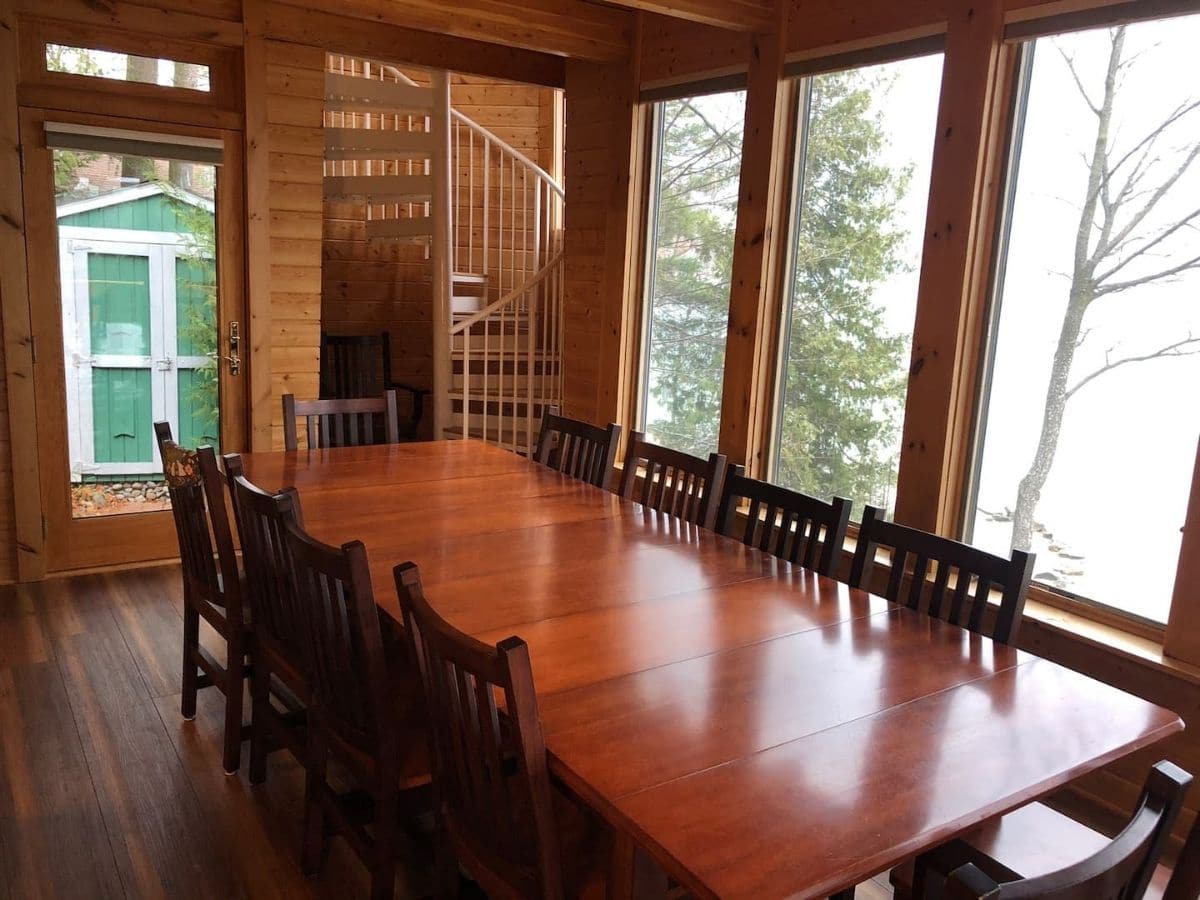 That little spiral staircase takes you up to your own private "lighthouse" with a spectacular view! So much fun!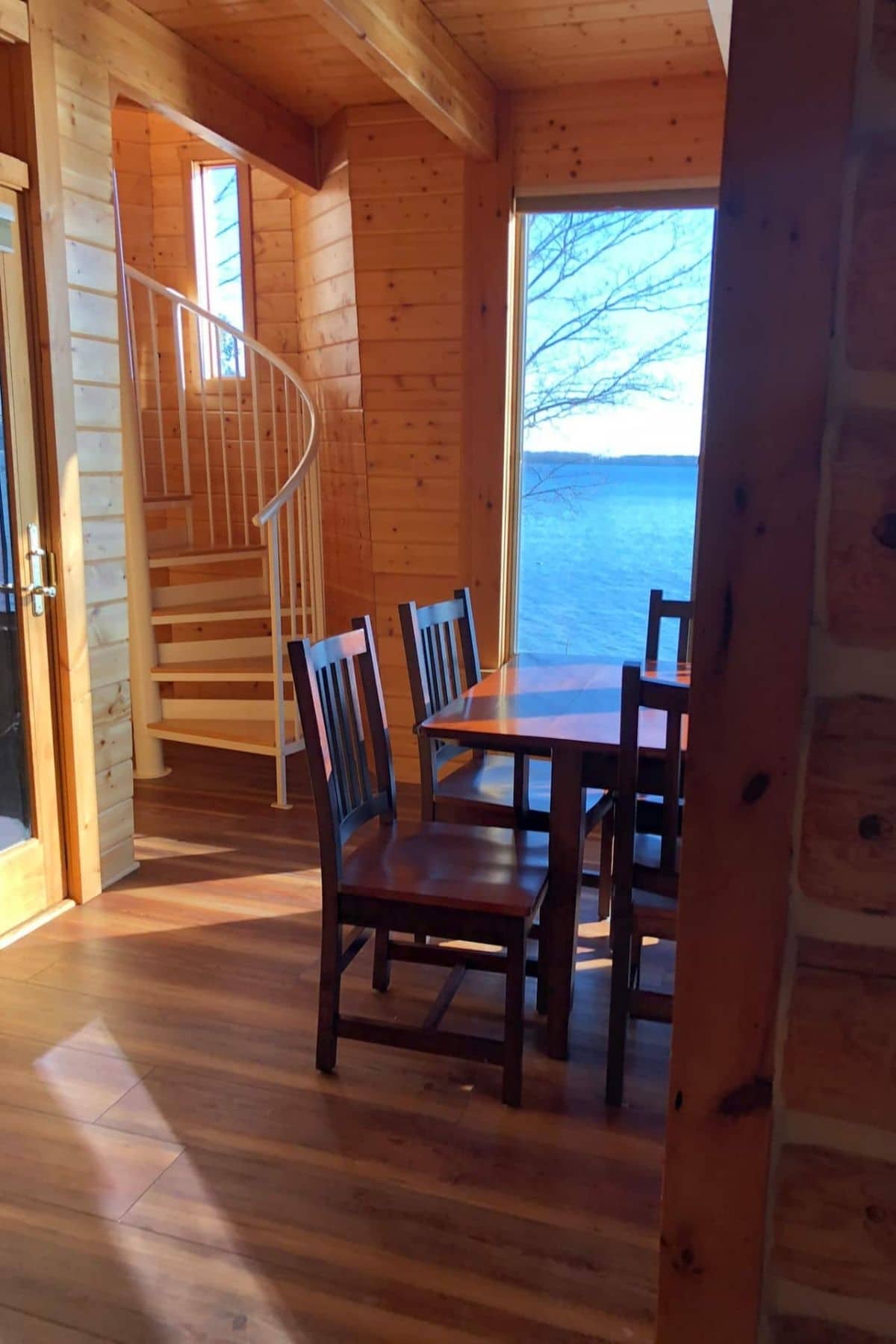 The loft in this home has two queen beds, a single bed, and a private balcony plus tons of extra room. A perfect bedroom for the kids, guests, or just a relaxing place to play games or get away from the world for a bit of privacy.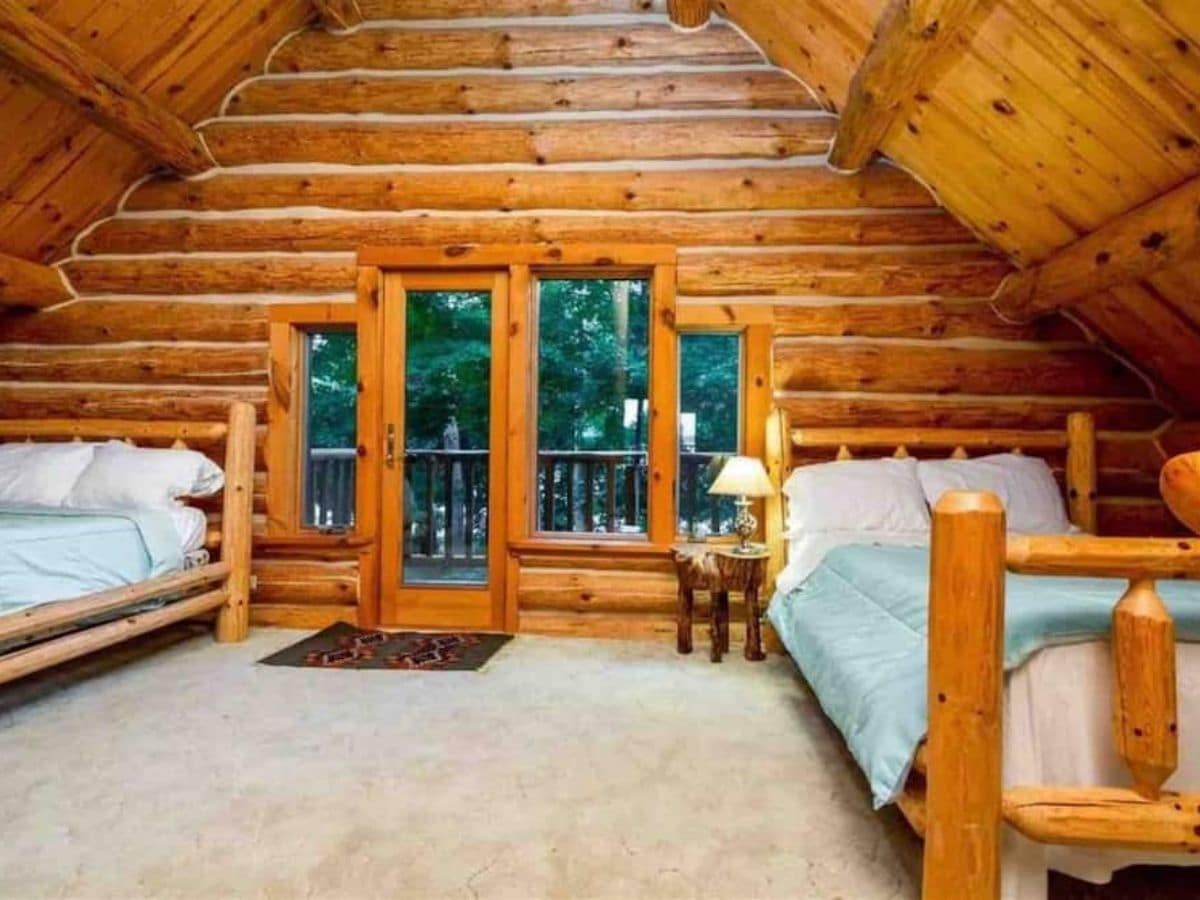 Downstairs the half bath is at the back of the home just past the kitchen. It may be small but it is perfect for what you need!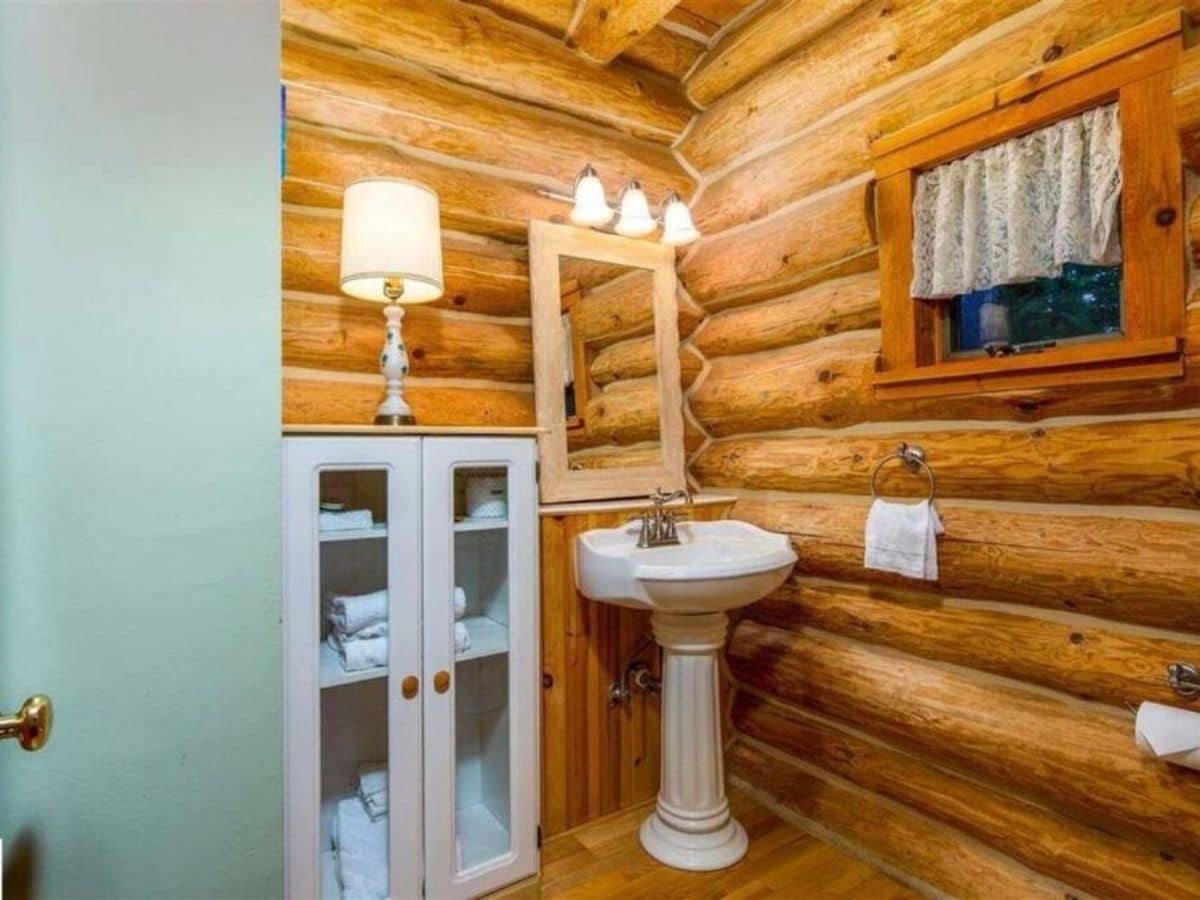 In the master bedroom, you have a second full bathroom with a glass-enclosed shower and extra-large vanity. I love this!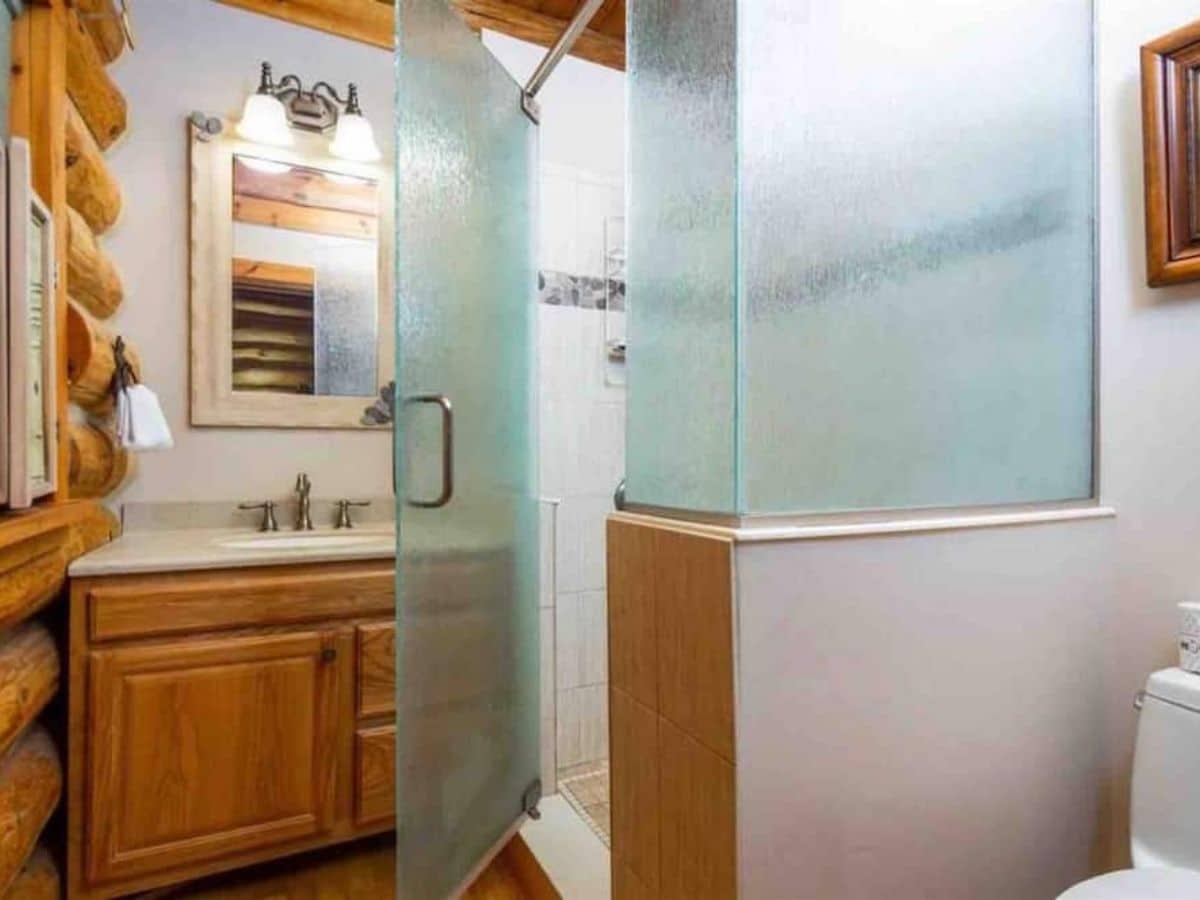 Last but not least, the main floor master bedroom has plenty of room for a king-sized bed, side tables, and the private bathroom shown above. It's a gorgeous home with plenty to offer whether you are renting for a getaway or using it for inspiration when designing your own home!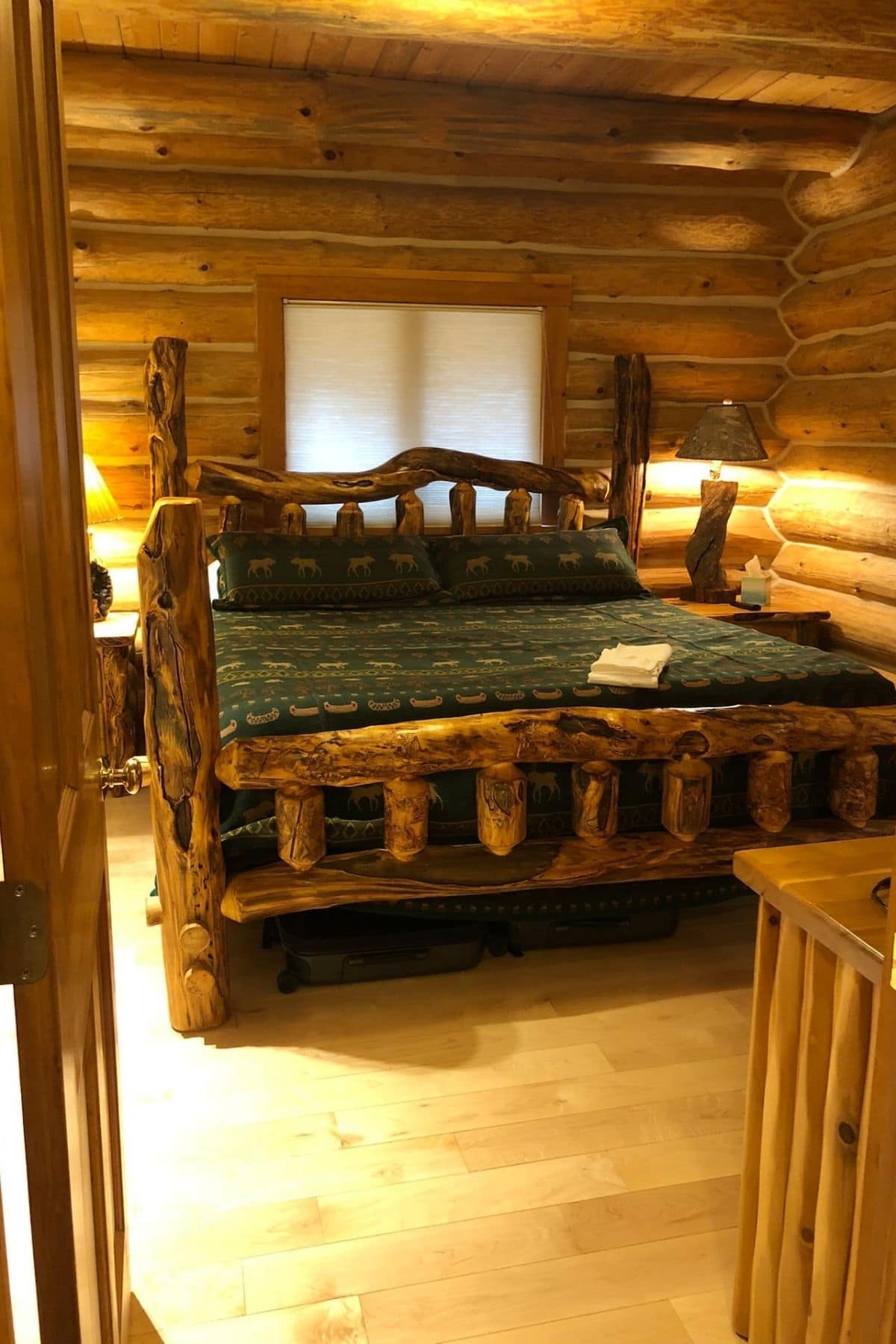 You can book your own stay at this gorgeous Traverse City area cabin via AirBnB. Use this log cabin tour as inspiration for your own build or just as a way to find a new location for a family getaway.
Need More Log Cabin Inspiration? Check These Out!