Many log homeowners are switching to composite decking as a low-maintenance alternative to traditional deck building materials. With the field expanding rapidly, every manufacturer offers its own unique mix of materials, polymers, and additives with corresponding variations in strength and durability, wear and mold resistance, and code requirements. It's important to understand the different products and to get the one you want for your decking.
What are the Advantages & Disadvantages of Composite Decking ?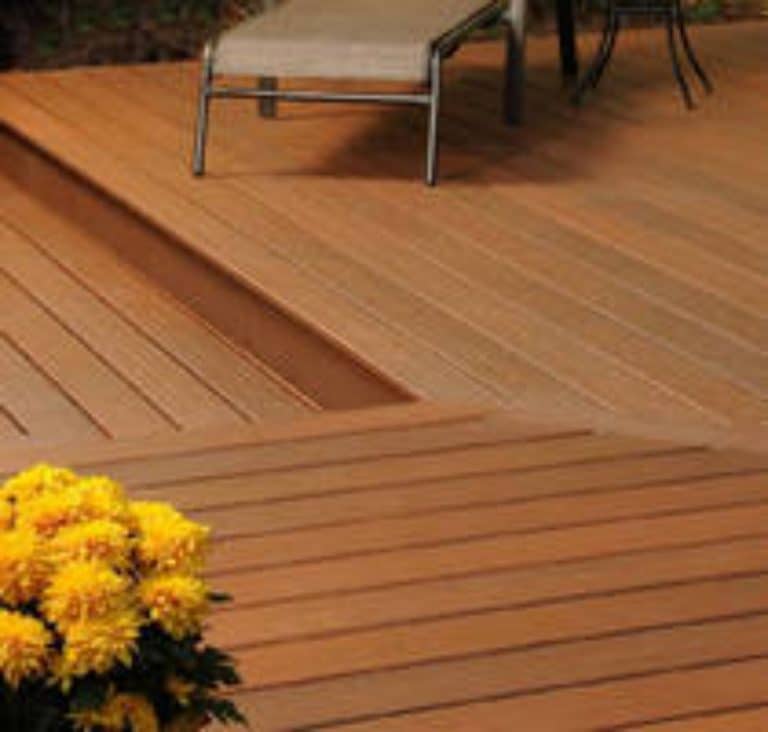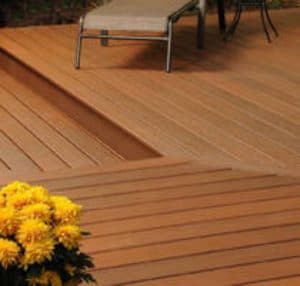 The advantages are clear:
It Doesn't Check or Split - Solid lumber expands and contracts with the heat and especially moisture content in the air. During the course of a year, the deck wood experiences a large range of internal stresses from this cycle of heat and cold, wet and dry. Over time the solid lumber develops cracks and checks that allow water and dirt to accumulate.
It Won't Rot - Although solid-sawn wood can be treated to resist rot for many years, and naturally-resistant species such as cypress and cedar offer great long-term rot protection for deck building, none of them compare to the blends used in alternative decking.
It Never Requires Staining or Sealing - Annual water sealing and regular staining is the best way to help protect solid lumber decking over time. Since composites don't need this protection, you are relieved of your regular maintenance chores and this helps offset the initial cost of the decking. The color you choose is the color it stays – apart from fading and weathering (more on this below).
It's Green - Using composites offers a way to build green by utilizing recycled content to varying degrees. Some manufacturers add recycled wood, some add recycled plastic and some do both. With wood-plastic decking expected to comprise 25% of all residential decking sales, this can offer significant green building advantages.
Hidden Fasteners - Using special decking clips that hook into the sides of the decking means that you'll never see the fasteners used to hold it in place.
What about the disadvantages?
It can Mildew - Although any decking installed in the shade has a tendency to mildew, many log cabin owners expect their alternative decking to remain pristine. Like any deck, they require regular sweeping and washing to keep the decks clear of dirt and debris. If your decking does show mold or stains, it's recommended to clean them with a mixture of detergent and sodium hypochlorite.
It can Fade - Exposure to sunlight will cause the wood-plastic decking to fade so it's important to choose your decking color by inspecting a deck that's already installed or at least looking at weathered decking. The color fade is generally complete after about 6 months.
What exactly is Composite Decking made of ?
Quite simply, this decking is made from a mixture of wood and plastic. The wood content offers strength and rigidity to the decking, along with better performance in flammability tests. In addition, the wood is cheaper than plastic and experiences less thermal expansion than the plastic content does.
It gives the alternative decking a more natural wood look but it also increases the vulnerability of the decking to staining and the possibility of mold and mildew.
The plastic content of the decking can vary but typically manufacturers use polyethylene, most commonly used for plastic bags and drink bottles. Recycling this material is a good way to reduce our waste and save energy. Occasionally a harder plastic is used such as polypropylene or PVC (vinyl).
Most manufacturers also include additives such as flame retardants, mold inhibitors, and UV stabilizers.
Should I use Solid or Hollow Deck Boards ?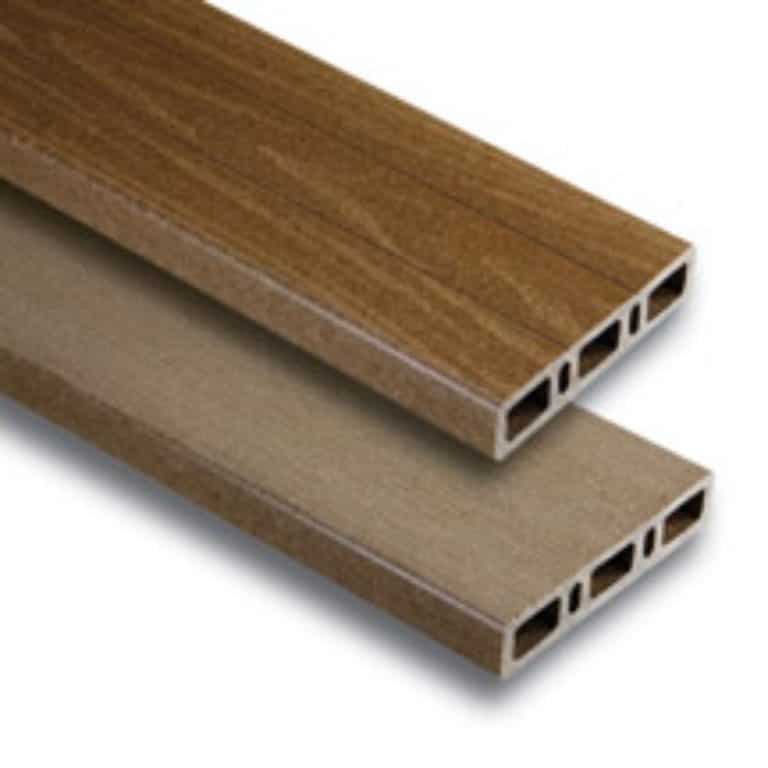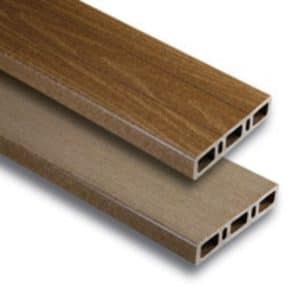 Hollow decking is engineered to be stiffer than solid decking and allows wider joist spacing, up to 24" on center for residential decking. The hollow spaces inside the deck boards can be used as a wire run for lighting and speakers and the hollow decking tends to be less susceptible to thermal expansion and contraction.
In addition, you need to use either wood or the manufacturer's proprietary trim pieces to finish off the ends and edges where the hollow core will show.
The solid decking is very similar to solid wood decking as far as size and thickness. But try picking up a piece and you will see the difference. It is very flexible and requires joist spacing no more than 16" on the center. This flexibility can be a plus if you're building a deck or porch with curves. A solid composite deck is heavier than hollow decking.
Is Composite Decking approved for use everywhere ?
Not all alternative decking meets building code requirements. This is changing as the market grows and more and more people are using the product.
Code officials and building inspectors are approving the use of composites for decking under the International Residential Code (IRC) once they see an International Code Council Evaluation Service report showing that the decking has passed a series of tests evaluating span, bending strength, elasticity, fire performance, termite resistance, fastener holding ability, UV and freeze-thaw resistance and the effects of moisture, temperature, and fungal decay.
Composite decking is an attractive alternative to solid lumber, offering less maintenance, long service life, and good color retention. Either solid or hollow-core composite decking will result in a beautiful, long-lasting surface underfoot for your outdoor rooms, porches, and decks.
More Cabin Maintenance Pages:
Spiders and Log Homes Spiders can be a problem with log homes - here's how to deal with them.
Termites and Log Homes Learn how to identify and treat termites in log homes.
Fall Cabin Maintenance Guide Fall cabin maintenance is a necessary chore, so do it right to preserve your investment.
Top Spring Maintenance Tips These Top Spring Maintenance Tips can help keep your log cabin in excellent shape.
Log Cabin Maintenance -- Issues Unique to Cabins Log cabin maintenance is a necessary chore but it's important to address issues unique to log homes.