How To Build a Successful Website with Site Build It!

Have you thought about building your own website? With Site Build It! you can turn your hobby or passion into a money-making venture.
---
Why did I start Log-Cabin-Connection.com? We live in a log home after pursuing a lifelong dream of building our own. Now, as a licensed contractor, I build log homes for other romantics: retirees to the mountains, rental cabins for investment income, vacation homes for those family times together in front of a roaring fire, and homes where you can lean your porch chair back against solid log walls and enjoy the quiet of nature.
I love to build and I love to solve problems. I decided that I wanted to share some of what I've learned along the way with others. I had built a couple of websites, teaching myself HTML code and spending hours trying to keep up with the ever-changing search engines. My sites just sat there taking up cyberspace but never attracting any attention.
Eventually I came across Site Build It! and learned that, hands down,
If you want to build a website where you can earn money, SBI! is the only way to go.
SBI! is great for website novices because it handles all the important technical stuff – like automatically submitting new pages to the search engines, analyzing your pages and suggesting improvements in using keywords and optimizing your content, web hosting, etc. – so you can concentrate on what you know best: your passion or hobby.
And SBI! is not just for beginners: by taking care of all the time-consuming details that are absolutely necessary for a successful website, but are not necessarily very interesting to the average person, even experienced web designers and techies can free themselves of these little chores to focus on writing about what they love.
If you're already a Webmaster you can learn more about how SBI! can help you develop your Net skills.
But the best thing about Site Build It! is that you can have a website that earns you money instead of just costing you money!

With Site Build It! you get an Action Guide that walks you through the process step-by-step, explaining each item and allowing you to build your knowledge while you build your website.
SBI! also gives you tons of tools to create content, optimize keywords, expand traffic and fully realize the monetary worth of your website.
They also have the SBI! business forums with tens of thousands of people all over the world comparing and sharing what works for them, encouraging beginners and answering every question imaginable.
You can sample the power of Site Build It! for free. Site Sell lets you download some of the 70 different tools or modules for nothing. Try their SpamCheck, Value Exchange for links, AdSense and the powerful Search It! tool.
Site Sell also gives you free books by download, too. These are valuable, content-rich business classes like:
Did I mention this is all free?!?
Click here for more free stuff.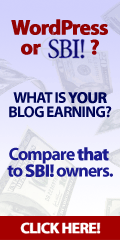 It begins with selecting keywords that relate to your particular interest. The tools provided by SBI! analyze these keywords and show you actual numbers relating to how many people are looking for these words.
This translates into a profitability rating that demonstrates where there is the largest gap between supply and demand and where you can build a profitable niche.
Once you register your domain name (usually within 48 hours) your site is "live" and you can begin adding content. SBI! even teaches you how to write about your passion so that people will read it and respond. They have website designs ready to use that you can tweak and customize to your heart's content.
You will learn how to turn your blogging into a money-making venture.
As you write your pages SBI! makes sure that each page is optimized for your keywords and automatically submits them to the search engines so people can find your site.
They are constantly developing tools to aid you in your site building and in reaching new people.
If you want to learn more right now about the process using SBI!, watch this detailed 30-minute video.

If you are ready to begin your new life online click here to order SBI! 
---
"I recommend Site Build It! because it teaches you how to create a business online, not just build a website."
---
Oh, and another thing…SBI! offers a 100% money back guarantee with no questions asked. If you decide you're not happy with it at anytime after you purchase it, just ask for your money back and you'll get it.

There's no risk! 

---
More information about Site Build It!:

Enjoyed this page? Please LIKE and SHARE it on Facebook: